Located in the heart of County Mayo, close enough to enjoy all that the West of Ireland has to offer lie Culduff Cottages, why not come and stay a while.....
Welcome to Culduff Cottages
Far from the madding crowd, hidden down a country lane in the heart of County Mayo, with superb views over rolling hills, bog land, green fields and a distant lake lie Culduff Cottages.
These distinctive and unique properties, situated beside a private 100 acre working farm are renovated to a Failte Ireland three star standard. Three are stone built, each with their own unique character, detail and features dating back over 200 years. The bungalow is a more modern property, finished to the highest standard.
Culduff (or Cuildoo in Irish whose English translation is 'The Black Wood') was originally settled by the Keane ancestors in the 1600's when they were forced from their home in Dungiven, County Derry after a dispute with a rival chieftain (but that's another story...) So over ten generations later, The Keane family still live here and work this land.
County Mayo is home to many different sights and sounds that will appeal to a wide variety of visitors and Culduff Cottages is the ideal base from which to explore these as well as the wider West of Ireland including counties Sligo, Galway and Donegal as well as Leitrim and Roscommon.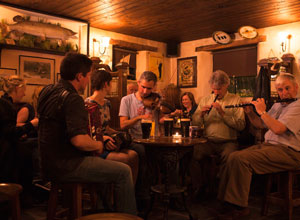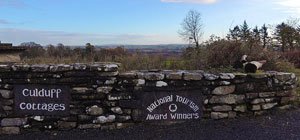 With over 30 years experience in welcoming visitors to the West of Ireland and one Failte Ireland National Tourism Award for "excellence in standards of self-catering accommodation" to our name, The Keane Family are looking forward to welcoming you to Culduff Cottages.